HOME / iCAT 2014 / RAPID PROTOTYPING JOURNAL
Celebrating 20 years of the inaugural 3D printing journal at iCAT 2014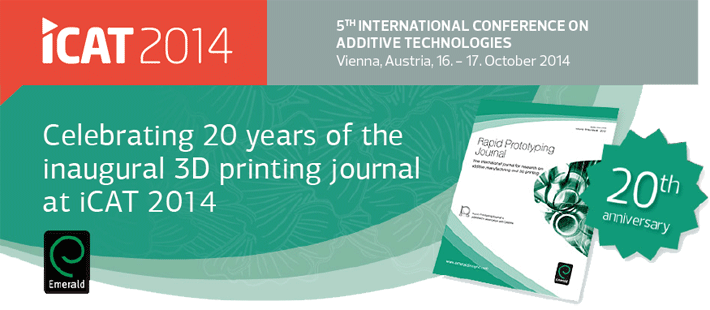 Dear delegate,

For the past two decades, Rapid Prototyping Journal has been at the heart of all things 3D printing. As the very first journal dedicated to additive manufacturing, RPJ has been at the vanguard of exciting and surprising developments from around the world, publishing a wide range of seminal articles along the way.

Today, with an explosion of interest in 3D printing and its applications, RPJ is an indispensable resource for anyone connected with the field. Since 2005, papers published in RPJ have been downloaded over 650,000 times, and the journal continues to provide an international perspective on what remains a dynamic and ever-changing area.

iCAT 2014 is proud to host a selection of events to celebrate RPJ's 20th anniversary as detailed below. We hope you can join us to reflect on how far we've come, and begin to imagine how far we may yet go.

Daniel Jopling
Wednesday 15 October
19:00 – 22:00
Thursday 16 October
19:30 – 20:00
Friday 17 October
14:00 – 15:40
Drinks reception: On the eve of iCAT itself, RPJ will be hosting an opening ice-breaking session before the conference gets underway on Wednesday morning. Join us at the hotel and meet up with faces old and new from across the research community. The first 50 attendees will receive a complimentary drink on arrival courtesy of RPJ's publisher, Emerald Group Publishing Ltd.
Ian Campbell (Editor in Chief) joint presentation with Daniel Jopling (Publisher), plus iCAT awards: Join Ian and Daniel as they offer an informative gateway into two decades of RPJ, and look forward to what the future of 3D printing might entail. Ian will also be presenting this year's iCAT conference best paper award.
RPJ Editorial Advisory Board meeting: Members of the journal's editorial team and EAB convene in an interactive, collaborative session to help shape the ongoing development of the journal.